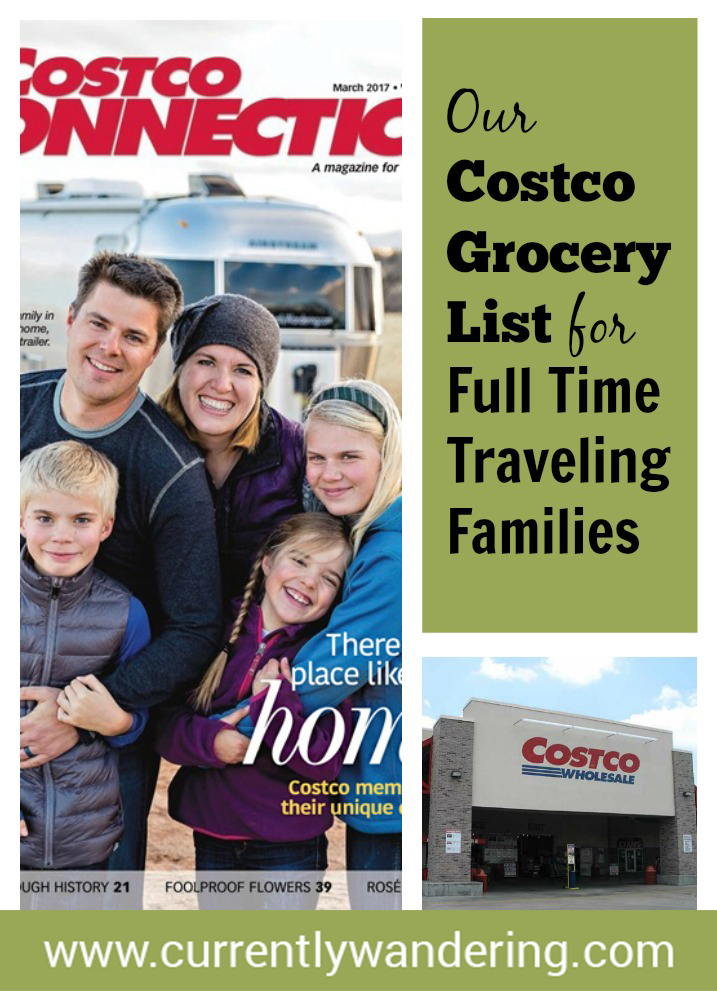 People seem surprised that we have kept our Costco membership even while living in such a tiny space. Either we are crazy, or there is more to Costco items than large, bulk purchases. I prefer the latter explanation.
Truth is, we are probably addicted to some of the items they carry, and even though the packages may be larger than a regular grocery store, its worth squeezing them in for the cost savings in the long run. In addition, sometimes it really just is convenient. If you follow me on Instagram, you'll notice my occasional rant about loathing grocery shopping. I really do. Its very difficult to price shop, build up a pantry, coupon or any other cost saving techniques. When I buy in bulk from Costco, I feel that I'm getting at least a marginally better deal than the grocery store.
Costco is also predictable. While we sometimes can't find an item (e.g. Dave's Killer Bread), its usually not difficult to stock up on our regular items. The layouts of the stores are all the same and we know right where to find everything.
We also have a Visa card through Costco. We get 3% back on gas, 2% back on restaurants, and 2% back on travel expenses. We make enough back between the Executive Membership and the Visa to more than pay for the Costco Membership (hello? Have you SEEN our gas bill every month?). Plus, we usually have quite a bit leftover that lends itself to a spending spree sometime in April. I'm sure they planned it that way.
The food court. Seriously one of the cheapest meals for a family of 5 (even if its not exactly healthy).
In celebration of our recent appearance on the cover of Costco Connection magazine, I thought I'd revise and republish our 2014 list of items we typically purchase. Its actually changed quite a bit in that we've added a few things we simply can't live without. Somehow we always find room.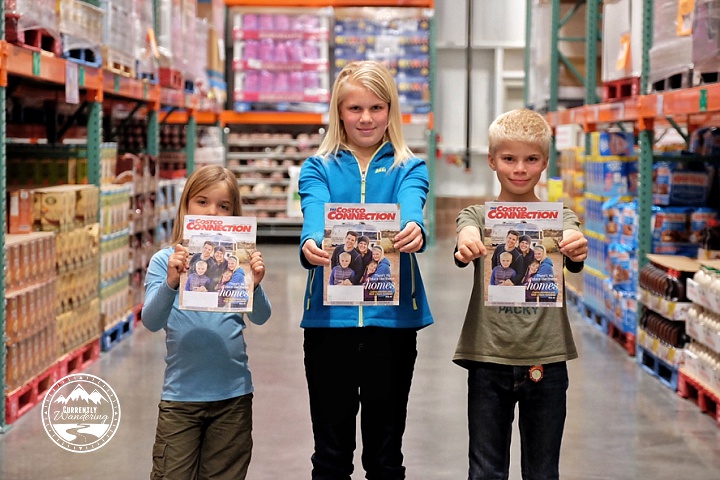 Items We Buy A Lot
Frozen Strawberries (for smoothies, pancakes, and muffins)
Multigrain Tortilla Chips
Cherry Tomatoes
Grapefruit
Cara Cara Oranges
English Cucumbers
Bananas
Organic Spinach
Rotisserie Chicken
Frozen Chicken Breasts
Chicken Apple Sausages
Cheddar Cheese
Greek Yogurt
Kodiak Cakes Flapjacks
Real Maple Syrup
Love Crunch Chocolate Granola
Cereal (Oatmeal Squares, Frosted Mini-Wheats, Cinnamon Toast Crust)
Mixed Nuts
Dave's Killer Bread when I can find it, Sprouted Honey Wheat Bread when I can't
Items That Last Us Quite Awhile
Quaker Old Fashioned Oats
Natural Turkey Lunch Meat
Ground Flaxseed
Chia Seeds
Organic Chicken Bullion Base
Butter Quarters (freeze most of these as well)
Honey (the 3 bears one)
Gummy Vitamins
Dove Body Soap
Kirkland Shampoo & Conditioner
Vegan Protein Powder (for everyone but me, I use Shakeology)
Johnny's Garlic Seasoning Spread
Quinoa and Brown Rice Packets
Fig Bars
Cliff Z Bars
Stretch Island Fruit Strips
Triscuits
Almond Butter
Nutella
Sweet Baby Ray's BBQ Sauce
Kirkland Signature Salsa
Coconut Milk
Paper Towels
Single Serving Hummus (I usually freeze more than half of them)
Laughing Cow Cheese Wedges
When We Have Room or Just Occasionally For Fun:
Potstickers
Orange Chicken
Canned Chicken Breast Chunks
Papa Pita's Greek Pita Flat Bread (found in *almost* every Costco we've been to. Except Nevada.)
Cheese Tortellini
Pesto Sauce
Bagels
Coastal Aged Cheddar Cheese (this stuff is seriously AMAZING)
Broccoli Florets (if I plan a whole week's worth of dinners with broccoli in them)
Skinny Cow Ice Cream Sandwiches
GoGurt (then we freeze a lot of them)
Items We've Given Up on Buying
Avocados (I just can't nail the ripeness and they usually go to waste)
Toilet Paper
Cheese Sticks (my kids won't eat them all)
Eggs (as much as we eat them, I can't fit it in my fridge!)
Milk (only room in the fridge for 1 gallon)
Fruit Snacks (I just don't like my kids eating them)
Carrots (once again not enough room for such a large bag)
Oatmeal Packets (much to the dismay of my children)
Wow. That is quite the list. I'm sure I forgot a few, but I'll add more in as I think of them. What are your favorite items to buy at Costco? Anything you can't live without? Personally, I still jump for joy anytime we can leave the building with a purchase under $100. Tell me I'm not alone?
Related posts:
Paid Vacations for the Self-Employed
Budgeting 201 – Using Toshl To Keep Track of Spending
I Don't Trust Myself in Suburbia
Executing the Crazy Plan & No Time to Blog